Observations on the effects of Covid-19 on the Midlands Property Market
Tom Edgar, Development Director
My 91year old, battle axe of a Grandma is categoric. This has been the 'worst' 12 months she has lived through.
That's saying something for a lady who grew up in very modest means in the city of Sunderland, survived a World War, was a Ten Pound Pom living in a town where there was 1 woman to every 500 men, lived through the decline of an entire economy built around mining and the shipyards, and by my reckoning is on at least her 5th recession.
When I spoke to her early in lockdown #1, her first thought was not over her vulnerability or risk from Covid, but to ask about how my job and work would be affected. In truth I do not think any of us realised then, how all consuming the effects of Covid would become.
Nearly 12 months on from the announcement for the initial lockdown, the world has become accustomed to a new way of living. Habits and behaviours are likely to change for a generation, possibly forever and our sector wont escape this change.
In the Property market we've seen a tumultuous time prior to Covid, Brexit, the decline of retail, the rise of sheds & beds, money pouring in and out of the market. Now COVID, that health impacts aside, threatens to turn our industry on its head in the short term at least…
Some have adopted Chicken Lickens approach to these issues, believing that the sky will fall in and the market will collapse. What's been shown however is the ability of the market to adapt and where certain sectors struggle, others succeed.
The Midlands market has been fairly resilient to date, helped by circumstance of location, connectivity and demographics. This has been carried further by the industrial market, which has gone to levels that surpass all expectations. 5 years ago we would have never believed land values at £1.2m per acre for good industrial sites. Where would that put land that was best in class now? As supply shows, this hypothetical 'prime land' is firmly proving to be a unicorn, which all us developers and investors are chasing.
"Foresight is not about predicting the future, it's about minimising surprise"
In the Industrial Sector, investment demand to date has generally outstripped occupational demand. A side effect of the weight of money. When good units in good locations, let to good covenants, have been marketed the bidding has exceed expectations. Take our unit in Oldbury let to ERIKS achieving a price of 4.11%, significantly ahead of underwrite. I see this only continuing given the market dynamics, and yield compression has scope to improve further. Industrial will be / is the new blue chip investment and has taken over from high street retail as was, where yields traded in the 3's for the best assets. Evidence exists in the Midlands market at this level, I expect it to become more common place.
Occupationally, take up has been focused on the larger units, 100,000 sq ft up to big sheds of 500,000sq ft +, have seen a purple patch. Partly due to availability, but partly due to big business being better capitalised and able to take a longer term view when compared to smaller business. I do see sub-100k units receiving greater take up in the next 12 months and activity to remain strong across the size range.
Our agents report and is evidenced by the businesses we are talking to, that there are shoots of positivity with manufacturers / advanced manufacturing / R & D specialists who are now inquiring about new facilities. Whatever the reason for the move now, the overriding driver for wanting to be in the Midlands is location and more importantly…the quality and scale of the workforce.
The office is dead, long live the office!
There is an obvious uncertainty over offices and their need in the future. Surely there is still a need for the office? Bill Murray thought his life was bad in the movie Groundhog Day, try sitting at your dining table / home office for the next 25 years. I think the future role of the office will not manifest too far from what we had pre-pandemic. IBM famously sent their entire business home to work. Selling $Bn's of assets…pats on the back all round. Several years later the decision was reversed, WFH doesn't work…well not full time at least.
Our personal & business lives, our DNA, is built on relationships and human interaction. Youngsters starting their careers learning by listening to their bosses. The immeasurable of 1 plus 1 equaling something that isnt 2. Separating home from work. Nurturing relationships that will last a career. Whatever our individual needs, 'going to work' was essential 12 months ago, we just didn't quite know it.
Could office environments in 5-10 years time be more open, creative spaces that encourage 'dwell' time and offer their workers a better experience? Spaces that offer a net negative carbon footprint? Maybe. Given what we've been through, why cant the boundaries be reinvented.
Powering a Generation
The biggest change I believe we've witnessed over the past 12 months is the acceleration towards electrification. The advent of the computer and its mass adoption changed the world, in property it altered the function and use of our buildings. A total electrification of our economy I believe will engender a structural change similar to the 'screens' revolution in the 90's.
Previously a concept for the wealthy and 'eco-evangelical' electrification has become mainstream in our thoughts. Big business has adopted the drive to reduce their carbon footprint. On our patch, JLR has announced that Jaguar is to become an all electric brand, with all Land Rover / Range Rover models offering an all electric version. A move we hope sees them thrive and not just survive, our market needs them to.
Modern technology requires ever increasing power, cleaner tech likewise it seems. It is the biggest issue we face with our tenants on new facilities. Power distribution is imperfect by the nature of a system that has been added and adapted to over the years, constrained by natural and man-made barriers.
The Government are banning gas boilers in new homes from 2025. Smarter people than me are looking at hydrogen as a source of energy on a commercial scale. Both in the home and in cars.
Whether electric or a hybrid mix, the power and infrastructure needed to take this ambition forward is going to be massive. Something not seen since the advent of the Oil Age and is likely to touch every part of our sector.
In 2079 if I'm fortunate to get to the grand age of 91, I hope that I look back on 2020 as the year that we used the chaos and sadness of Covid as a catalyst for an evolution in our psyche. To redress the focus in life, both at work and at home, but also to start developing the framework so our children can live in a cleaner and happier world than our own.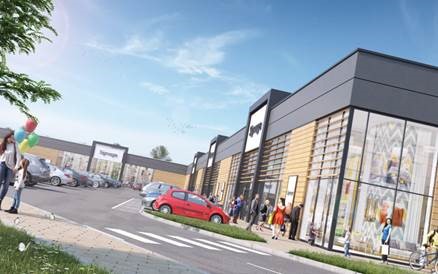 RETAIL: Stove Works Retail Park, Royal Leamington Spa
Opus Land and Savills Investment Management purchased a brownfield site, which was formerly a Ford Factory car park and obtained planning for a 60,000 sq. ft retail space, located just 0.5 miles from the town centre and 15 minutes' walk from the train station.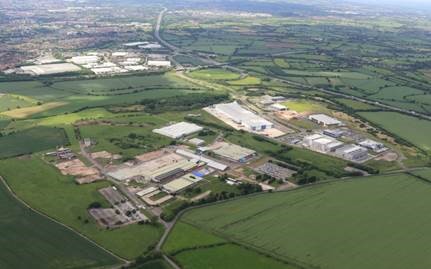 INDUSTRIAL: Prospero, Ansty
Together with their joint venture partner, Manse LLP, and on behalf of Rolls-Royce, Opus Land are delivering more than 2 million sq. ft of space at Prospero, Ansty, starting with a 490,000 sq. ft manufacturing facility for Meggitt PLC.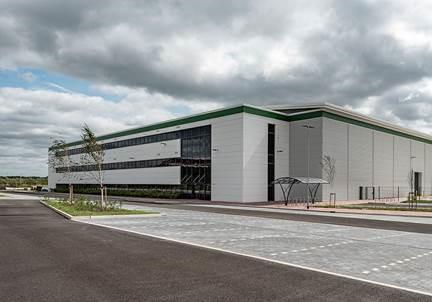 WAREHOUSE: Conneqt Alpha
Opus Land and Bridges completed an 153,800 sq. ft unit with 16 loading doors at the Kingwood Lakeside Business Park in Cannock.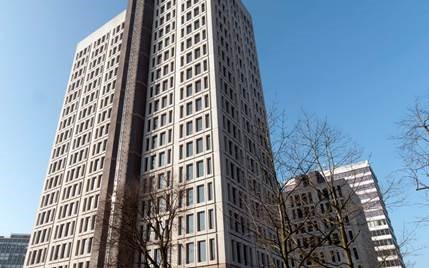 OFFICES: 54 Hagley Road, Birmingham
A 160,950 sq. ft multi-let office, three miles from Birmingham city centre which underwent a comprehensive refurbishment programme by Opus Land and was sold for £24.25m.